Energy Cycle is a dynamic and interactive energy monitoring solution. It provides access to all utilities and data sets that not only enable social landlords to manage the energy efficiency of their assets more effectively, but also acts as the catalyst for low-income households to manage their energy consumption and finances in a more informed way.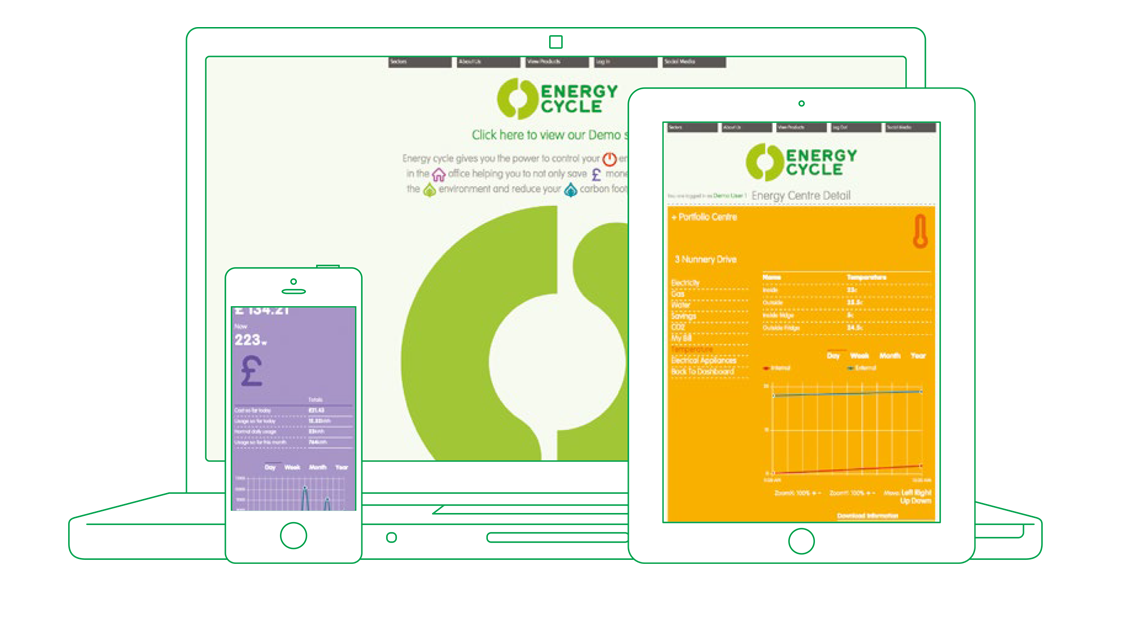 Why monitor energy consumption?
The Government's policy: 'Blueprint for Our Energy Future' outlines that the UK must move to a low-carbon future, with less reliance on fossil fuels and greater emphasis on renewables. By 2020 the UK must cut its carbon emissions by 34% on 1990 levels and must generate 15% of its energy from renewables.

Social Housing Providers (LAs, HAs and ALMOs) have a huge contribution to the 'green' agenda by raising environmental standards in their stock. The UK has one of the worst performing building stocks for energy efficiency in Europe, which has left nearly 20% of residents struggling to heat their homes.

Over five million UK households live in fuel poverty, these families struggle to afford to heat and power their homes to even basic levels of comfort. Fuel poverty impacts health, increases demand on social housing providers, the NHS and social services. As a society we are living longer and with energy fuel prices expected to rise by over 50% in the next decade, and because the UK's older housing stock is thermally inefficient, fuel poverty is expected to rise. Fuel poverty often overlaps with digital and financial exclusion. Households without access to online services are clearly unable to take advantage of the discounts available to those who pay online, and so have to pay more for their energy – typically £300 a year more.

Given the rising costs of energy bills, and the 5.5million UK households defined as living in fuel poverty, social housing providers have a pressing need to meet the energy efficiency challenge.
Introducing Energy Cycle
Unlike the majority of energy monitors currently in the market that simply measure energy use, Energy Cycle combines a metering system with an online interface. This offers a range of energy management tools that enable social housing providers to monitor and manage the energy efficiency and carbon emissions of their assets, and also provides the ability for end-users to maximise their disposable income, reduce excessive fuel bills and control their expenditure. Tangible data from the Energy Cycle systems already installed identify that Energy Cycle can save fuel-poor households between £300-£500 per annum.
Benefits of Energy Cycle
Provides data-sets that enable social housing providers to manage and monitor the energy efficiency of their housing stock pre- and post installation measures.
Enables social housing providers to minimise the cost of repairs caused by faulty pipework by monitoring increased water consumption within their properties and the ability to remotely isolate incoming water supplies to a property.
Can monitor renewable technology and provide data sets that enable social housing providers to monitor manage and maintain those assets.
Enables social housing residents to take control of their energy bills and maximise their disposable income.
11 million people in the UK lack basic digital skills and capabilities. Without access, skills, motivation and trust, people will continue to be digitally excluded, with a real social and human impact – affecting job prospects, health, education and more.
Helps tackle fuel poverty and assists social housing providers in making important contributions to the well-being of their residents and towards the carbon emission targets set by Government.
Energy Cycle clients
Barking and Dagenham council temporary monitoring solution installed to validate the charge to LED lighting.

NHS – Queens Hospital, with our temporary monitoring solution, this showed to cost to save where we successfully changed over a 1000 lamps with in the car park, and we are now in the process of submitting a quotation for all the corridors within the hospital.